Insurance Link Building Case Study
Client:
THE AA IRELAND

Category:
PERSONAL INSURANCE

Duration:
24 MONTHS
Package:
CUSTOMIZED
The Automobile Association of the AA Insurance is a prominent car insurance company in Ireland that provides breakdown cover to its over 14 million members. As Ireland's largest motoring organization, the AA Insurance has got a unique history of keeping pace with the latest technologies and innovations that it uses to serve its clients better.
The Challenge
Although AA Ireland offer a breadth of services to meet the needs of motorists, and some additional services designed to appeal to the same demographic, there was one area of the business where they had identified opportunities for significant business growth as part of a strategy to position AA Ireland as a leading insurance provider.
Having carried out research using google.ie SERPS the business has identified that the search results their travel insurance pages were performing very poorly, ranking only 18th, which meant that most competitors were achieving better search page positions. Relevant keywords needed to achieve much better page rankings.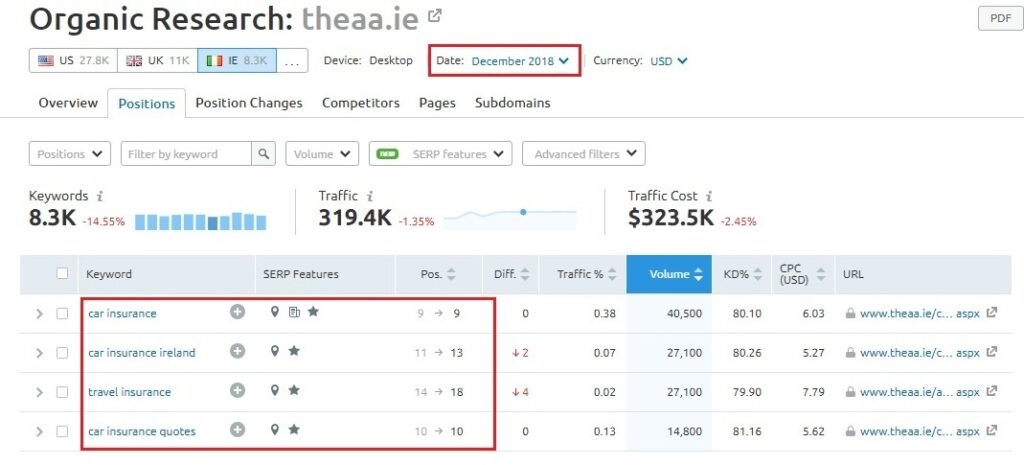 Our client knew that to achieve these improvements would require some specialist advice, and our link building expertise sets us apart from others in our sector. AA Ireland were impressed with Traffic Kite guest posting services which consistently delivered great results for highly competitive keywords in similar sectors.
They also liked our business model, with no long-term contractual commitments and dedicated client support.
Link building takes time to deliver results, but after just a few months we were seeing significant improvements in SERPS results.


After 12 months, the car insurance page achieved 3rd position and travel insurance pages reached 2nd position in google.ie search results & still counting.
We achieved impressive levels of organic growth which has also enhanced The AA's brand authority as an insurance provider.
SERPS Ranking Improvement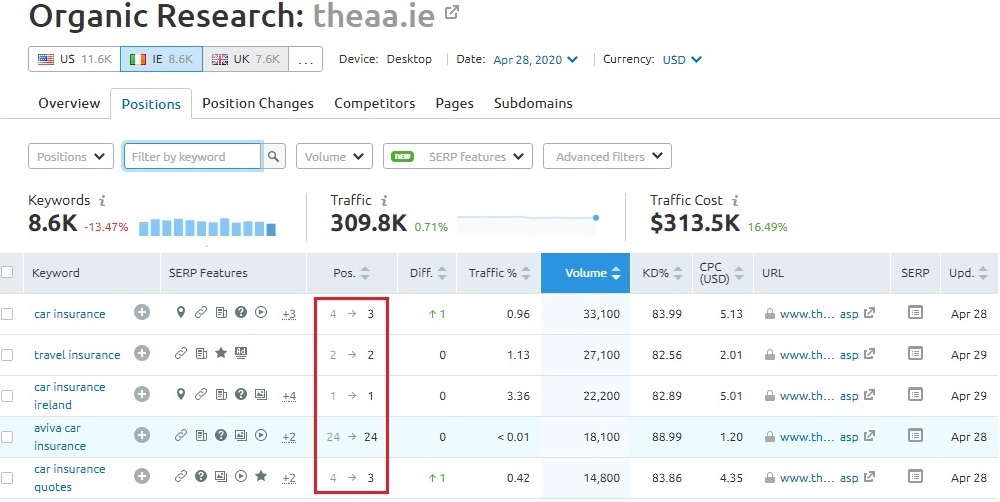 Our Link Building Strategy
To develop an effective link building strategy, we started with an analysis of competitors and their back links.
Competitor Backlink Analysis
Understanding high ranking competitors gives us some insight into what they were doing well. It also provides an opportunity to gather ideas for places where we can build relevant backlinks.
Assessing the number of backlinks that each of AA Insurance's competitors had.
Analyzing the sites that the competitors received maximum traffic from and saving the sites for guest posting opportunities.
To ensure this approach was effective we targeted high-quality UK and Ireland blogs and with monthly traffic of more than 1,000. These scores would help assure good results, while the focus on travel pages would help deliver relevant leads.
We choose a selection of these and add in other targets form our own research.
Relevant Guest Post Content

Creating unique content that aligned with the AA Insurance's core competencies
Incorporating relevant keywords into the content to help these blogs rank higher on the Internet
Carrying out ample research related to the car insurance market and writing blogs that would address the usual concerns of consumers i.e., the company's potential market.
Relevant sites for Guest Post Publishing
Finding relevant sites within the insurance industry that publish guest posts on the same niche.
Finding other high authority sites from different industries that would accept guest blogs related to car insurance.
Preparing a compelling sales' pitch that would be sent to these sites when reaching out to them for guest post requests.
Maintaining Different Aspects

Keeping correct ratio of anchor text selections to ensure the site won't be affected by future Google's  algorithm update.
Ensuring that there was a fine balance between the no-follow and do-follow links and there weren't only one kind of links.
Assessing how many backlinks were coming from the homepages as they are the most authoritative pages on any site.
Want Some Link Building Ideas For Your Company?
If you'd like some free ideas on how to generate more high-quality links to your website..