Link insertion is a special way to make your website more popular. Backlinks are the most essential search engine ranking factor because it serves as a vote of confidence that search engines use to rate a piece of content.
The goal of most website owners and SEOs is to get more backlinks. There are several link-building strategies that can be used, but I believe that link insertion isn't talked of as much as it probably should. 
In this article, we'll explore link insertion and why it's so useful for SEO. We'll explain how it works and give you some easy tips to try it out yourself.
Whether you're an SEO pro or a website owner, this guide will help you understand and use link insertion to make your website shine.
What is Link Insertion? 
Link insertion is the process of placing backlinks into already-existing content on a website. For example, if some site adds a link to my page from any one of its old articles, this is called a link insertion. You can see the following image: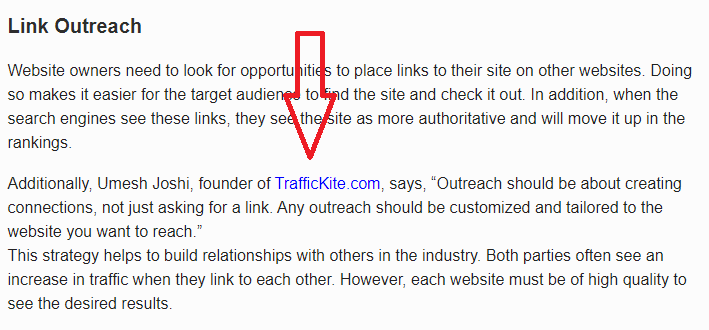 It's not as simple as it sounds; it usually requires your time, effort, and, in some cases, money. There is nothing free in this world 🙂
What Makes Link Insertion a Good Backlink Strategy? 
Link Insertion is a great way to improve online visibility and optimize SEO results. Here are the top 3 benefits of using this strategy.
1) It is a simple link-building strategy
Link-building takes time and can be very stressful. Any SEO specialist that promises thousands of links within a short span of time is likely a black-hat SEO strategist. 
However, it reduce the stress involved in link-building. Why? Because it is a straightforward strategy.
All you need to do is find a relevant website, reach out to the owner, and ask if they will insert a link on an existing page. If they do, you'll have to offer something valuable in return, i.e., unique content, an infographic, a link from another site, etc.
2) Significant effect on website rankings
When your links are placed on a relevant website, it will effortlessly pass the link juice and you'll benefit from an increase in your website rankings.
Nevertheless, to ensure that you don't miss out on this benefit, you should only insert links on websites with high DA, high-traffic, and decent rankings on SERPs.
3) White-Hat SEO technique
Link insertion is a highly beneficial white-hat SEO technique. It is not talked about much for fear of penalties. Of course, Google will penalize you if you abuse any type of link-building techniques.
That's why you must employ sustainable strategies that'll guarantee results in the long run. Keep reading to discover some of these strategies. 
How to Find a Good Site For Link Insertion?
1) Find Relevant Content: A good site for link insertion must always have good content. You shouldn't place your links on a website with low-quality or irrelevant content.
For content to be relevant, it must be relevant to your target audience. Therefore, your initial findings should focus on the content of the website.
2) Check SEO Metrics: The SEO metrics of a website is very essential. You will know if the website will bring you value or not.
It will also help you know how to negotiate to get your link inserted in their content. Lookout for DA, Website traffic, and where the traffic comes from. 
3) Linking the Right Keyword: You have to be diligent in how you place your links on another website. The anchor text should not be too related to your keyword.
I know this is against SEO best practices, but it is a smart way to keep Google's manual analyst away from your website. Try to make it as natural as possible. 
4) Page Traffic: Remember that there's a slight difference between page traffic and website traffic. Page traffic is specific to a particular page, while website traffic covers the entire website. When doing your findings, ensure you link only to a web page with good traffic.
A page with good traffic will have higher rankings, as such, your link on a relevant page with high traffic will highly benefit your website. 
5) Keywords Ranking: Analyze the keyword rankings of the website where you intend to place your links. If they rank high for some of your target keywords, then it is a good choice. The link juice from their high keyword rankings will highly benefit your site. 
How to Look for Link Insertion Opportunities?
You can identify and seize link insertion opportunities effortlessly in just three easy steps.
1) Choose the appropriate website 
The first step is to choose a website that will benefit you. To make this choice, you have to pay keen attention to its quality and relevance. That means avoiding sites with thin content, PBNs, and irrelevant sites. Once you have a good website in your sights, it is time to grab the opportunity.
2) SEO metric analysis on the webpage
Before you grab a backlink opportunity, ensure you do an SEO metric analysis on the webpage where you intend to place your link. The metric will help you know whether it will be beneficial for you to insert a link or not.
Usually, we suggest considering a domain with a DR of 30 or more and a monthly traffic of 1000 or more for link placement.
Normally, it is best to place your link on a website with a good amount of backlinks because the more backlinks a webpage has, the more link equity it can pass to your webpage. 
3) Set up a campaign for outreach 
The most important step is your outreach. You must reach out to the website owner or editor of the website you've chosen and find out if they are willing to insert a link.
There are three steps I usually follow, namely; 
Contact finding: I usually use email finding tools or check on LinkedIn for the email of the websites where I intend to place my links. 
Outreach email: Next step is to craft a personalize email to them to ask if there's an opportunity for backlink insertion. It is essential to be direct. They know what you want, so ensure that your emails are short and precise.
Negotiation: Normally, if your prospect replies, they will send you the guidelines or terms to insert the link. The information you've gathered will come in handy at this stage. You can negotiate based on the information you have about the website and webpage to ensure you get quality backlinks.
How Much Does Link Insertion Cost? 
The price for link insertion will highly depend on your industry, the website authority, and website traffic. Nevertheless, the prices vary between $50 and $500 if you do it alone.
However, if you work with an SEO industry the cost could be between $1000 and $5000 because it's often tied with other link-building strategies and content marketing. 
When is the Right Time to Hire a Link Building Agency? 
Link insertion can be very stressful but also beneficial. For an individual to do it, they need to be skilled and tenacious. Most business owners don't have the time or skill to effectively do it. Moreover, some individuals may attract Google penalties by doing it wrong.
Therefore, it is advisable to work with a professional link-building agency to ensure that it is done right for you and you can benefit from it. Traffic Kite is a growing  link building agency that'll take away all the stress and risk involved in the process. Please message us if you want flawless link insertions on your website. 
Conclusion
Backlinks will always be relevant for search engine rankings. However, it is a stressful and time consuming process; link insertion is an efficient shortcut. 
I hope this article showed you how you can benefit from link insertions. Are there any other ways you think we missed? 
Please share in the comments. 
FAQS
Are Link Insertions Safe? 
Yes, they are safe; but you need to do it right. If you don't master the strategies well, you may trigger penalties from Google. That's why working with experienced agencies is usually best. 
How Long Until I see the effects? 
It will depend on your niche and the volume of links to content needed. Typically, it could take about three to six months before you see the effects. 
What is the Difference Between Link Insertion and Guest Post? 
For link Insertions you place your link in already existing content. You have the opportunity to access the strengths and weaknesses of the page's content before placing your link. Guest posts on the other hand entails that you create content for the target website and place your link in it.