How to Find Guest Blogging Sites Quickly
Most of my SEO clients always ask "Hey Umesh, can you help us to find guest blogging sites for our link building project ?"
And I always reply with a BIG YES!

(If you aren't sure what is guest blogging and why we do it, then read this article first to know why guest posting is in such a huge demand.)
It's a time-consuming process to find guest blogging sites for guest post opportunities. We usually call it prospecting, which is the very first step in the link building process to create contextual backlinks. It's very important that you find relevant and high-quality blogs; otherwise, they won't help you take over your competitors.
That means if you want to do link building for an Electric Vehicle Driver's App, then you should target relevant blogs on the topic EV charging station, EV car maintenance, cost of ownership EC cars, EV batteries etc.

80% success of any guest blogging project is depending on the prospecting relevant blogs.
That is why it is important to find guest blogging sites before you start doing outreach.
I'll like to share 3 simple tips that are very helpful to search thousands of sites in no time ( without using google search operators):
1. Using Link Prospector Tool
The most easy and smart way of finding guest blogging opportunities is using Link prospecting tools. You just have to select few options and put some information and within 10 minutes the tool will start searching the sites that accept guest blogs.
Initially I used to do prospecting manually but as my link building agency was growing then I found link prospecting tool from Citation Labs.
This tool is really helpful in prospecting good quality niche relevant blogs for guest blogging, resource page and broken link building. It save many hours if you try to find guest blogging sites manually.
If you are a start-up or running a small business then you must spent most of your time on main business activities. This tool is very affordable and you can start using it from just $5. And within 24 hours it will fetch hundreds of sites that are interesting in accepting guest posts.
See this video to learn how this tool works.
2. Find Guest Blogging Sites with Facebook Groups
Everyone loves Facebook groups. It connects you with like minded people and that is the main reasons I joined some Facebook groups to find bloggers that are interested in guest blogging.
Facebook groups are great ways to connect with bloggers throughout the world, looking for quality content and ready to accept guest posts.
I frequently use Facebook groups to create long term relations with real bloggers to continue guest blogging in a challenging time.
Just make sure that you should be approaching group members in the good way that won't look spam. And that mean to use the following steps:
Select and join FB groups where like minded people hang out.
Be active in the groups regularly so that existing members recognize you.
Don't do self-promotion unless it is required.
Do support other members when you are requested for help.
Just follow the above 4 steps when you join any Facebook group and you can see how simple it is to find guest blogging sites quickly.
You can start with this Facebook Group for free guest posting with 21.7K members.
3. Use Competitor Backlink Analysis Tool
This method is trendy among freelancers and link building agencies. You need to access a couple of SEO tools, such as Ahrefs or SEMrush.
I prefer Ahrefs to do competitor backlinks analysis and start searching guest blogging opportunities straightway.
Paste your competitor's domain name in Ahrefs and select the last option "*domain/*."
In the left sidebar menu, click on "Backlinks" under "Backlink Profile."

In the Backlinks section, you need to choose a few filters as follow:
a) "One link per domain"
b) Link Type >> Dofollow
c) Platform >> Blogs
d) Language >> English
And you will see all the dofollow backlinks that are linking to your competitor's domain.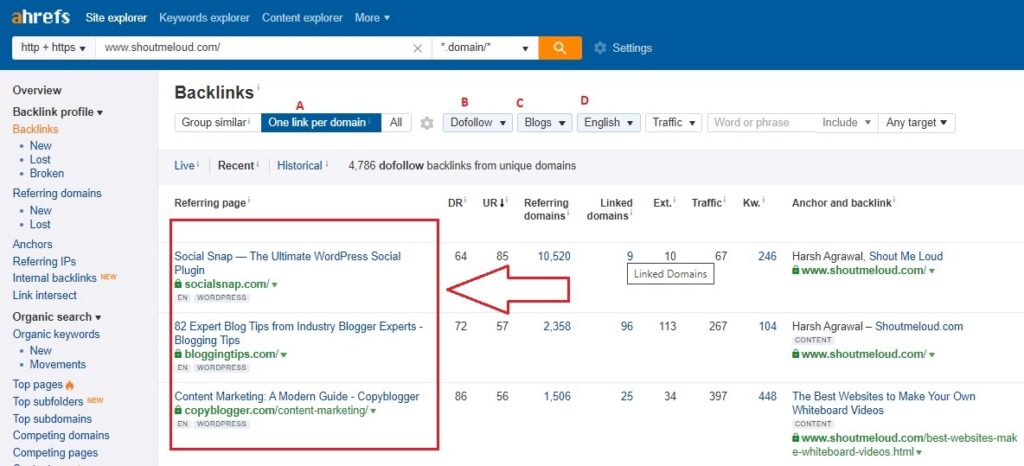 These are excellent guest posting opportunities because these sites are already linking to your competitor's domain. So you have a better chance to get guest post-approval from these blogs.
Ahrefs tools also provide some useful seo metrics like DR, UR, Referring domains & traffic. You can download all these backlinks and sort out the site list according to your seo metrics.
You can see this method saves a lot of hard work to find relevant sites and you get high-quality sites that are willing to accept guest posts.
Wrap-up
You must have understood that it's not an easy process to find guest blogging sites and requires a lot of hard work and patience. That is the reason many individuals don't generally do it.
If you start with these three simple techniques, you should be having a massive list of sites open for guest blogging.
Let me know which technique works best for you in the comments. Good luck!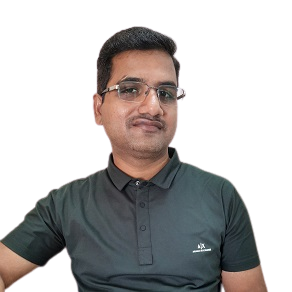 I work as a blogger and SEO consultant. I've been working in search engine optimization and digital marketing since 2015. My goal is to provide useful SEO (on-page, off-page & technical) tips to help others increase the traffic to their websites.